Kverneland 5095 M
Butterfly Disc Mower
Kverneland 5095 M is the perfect machine for the ever growing number of cattle farmers looking for an effective solution enabling them to mow extensive areas with a relatively small tractor. Designed to match the needs of large-scale mowing, these machines are packed with features to meet all demands. The centre suspended mowing units, in combination with the round discs, offer unmatched mowing performance.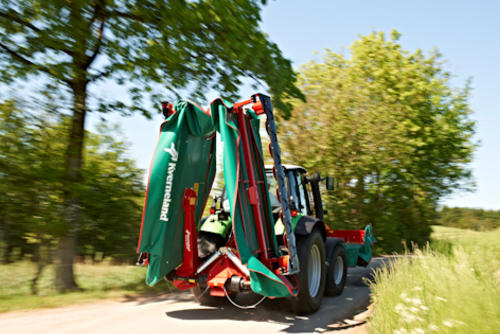 Cutterbar with Round Discs
Kverneland uses round discs. Round discs are less susceptible to stone impact, and reduce shock loads in the transmission.
Stones are expelled immediately, before they have any chance of becoming jammed. The benefits are lower repair and maintenance costs - at the same time as a clean and aggressive cut.
The cutterbar has a high oil capacity, ensuring a very low working temperature. This ensures an efficient oil cooling and lubrication of the entire cutterbar.
The long curved gear wheels running in oil provides a very quiet and reliable power transmission.
The fully welded cutterbar gives a very stiff and strong design for high durability.
With the ProFit quick knife change system, maintenance of the cutting ability is easy. The knives are changed by one simple operation using the special lever.